Mahlers Fifth Symphony Analysis Essay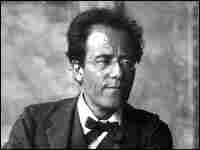 Gustav Mahler. hide caption
toggle caption
I've never aspired to climb Mount Everest, but I can imagine the nervous anticipation of the climber who stands looking upward at the task ahead. Regardless of preparation, training, desire or zeal, it's impossible to know exactly how the climb will go.
That's exactly the sensation I have when I walk onto the stage to conduct Gustav Mahler's Fifth Symphony. It's a large-scale journey, guaranteed to provide surprises and new discoveries along the way.
Even as a young man, Mahler was after the big picture. When other twentysomethings might have been writing lighthearted music, Mahler was trying to solve the riddles of the universe through his epic symphonies. They were vehicles for him to express his beliefs and pose questions.
For me, Mahler's symphonies warrant Jungian or Freudian dissection. The Fifth Symphony employs huge orchestral forces, but the fact that it begins with a single individual voice seems almost apocryphal to me.
The opening trumpet fanfare consists of a similar rhythmic theme, as in Beethoven's Fifth Symphony: It shifts from repose to overt rage in a matter of seconds. The burden of this opening message, on a technical and theoretical level, is great. I try to feel as though I am seated next to the solo trumpeter, breathing the exact same air, as we begin our epic journey.
After this opening outburst, dark clouds linger in the guise of a funeral march — depressing, inevitable. Mahler's obsession with death surfaces early in this symphony. But the journey will transcend that obsession, in large part, because Mahler has fallen in love.
The first two movements explore this struggle between darkness and light with no resolution. The third is a miniature journey unto itself, a kind of commentary by Mahler on popular culture past, present and future. For a conductor and the orchestra musicians, it's extremely challenging on many levels: It's music about excess, yet focused through the lens of a traditional, conservative German dance, the landler. Highlighting that excess without letting it slip over the edge into parody is one of many challenges along the way.
The fourth movement, the "Adagietto," is an intimate oasis, a glorious escape from the throes of excess in the previous movement. Scored for only strings and solo harp, this is Mahler's love letter to his new bride, Alma. But the music is never free from angst. There's a quote from Wagner's tragic "Tristan and Isolde" along the way, but in the end, Mahler's heartfelt desire wins out.
This movement leads seamlessly to the Finale, with its playful opening pastoral tunes. Mahler explores the natural world here, but he also summarizes our journey with references to where we've traveled so far. Since nothing is simple in Mahler, there are a few trademark detours along the way, leading to the sunny summit.
Just like the Everest climb, pacing is critical to the outcome. My goal is to give our journey a sense of structure, arrival and resolution. Mahler loves conflict, contrast, obsession and excess. But I always have to temper and monitor the indulgence so that it doesn't become self-indulgence. I have to feel as one with the musicians, and be vigilant about the path we navigate together. That will contribute to a successful outcome.
Tackling Mahler's Fifth Symphony requires an expert team, and working with the musicians of the London Symphony Orchestra on such a monumental piece is like a dream come true. They are phenomenal individual stars, yet willing to work together selflessly. The perfect climbing team for our journey!
This year, Marin Alsop became music director of the Baltimore Symphony, making her the first woman to head a major American orchestra. She was named a 2005 MacArthur Fellow, the first conductor ever to receive the award.
Alma often inspired Mahler's work. The Fifth Symphony was a special bond that united them in the early years of their marriage. Alma said that it had been her "first full participation in his life and work," and she played a role in its creation. While Mahler was scoring the symphony, Alma copied it out. "We had a race to see who got through first," she said, "he scoring or I copying." In the 1930's, when Alma donated her copy of Rodin's bust of Mahler to the Vienna State Opera, the Vienna Philharmonic played the Adagietto at the presentation ceremony at her request.
By using the Adagietto as a love letter, Mahler clearly pointed to the mood he wanted. And this, it would seem, determined his choice of tempo. The message of romantic love puts limits on how slowly the music can be played without distorting its character. Donald Mitchell, a leading Mahler authority, suggests that the Adagietto is really a song without words. "The successful interpretation of the Adagietto," he argues, "will be that which sustains the long melody as if it were written for the voice. No singer could possibly sustain the very slow tempos some conductors have adopted."
A very slow tempo might be justified if Mahler meant the Adagietto to be a sad love song, and there is no denying the bittersweet quality of some of its music. Still, it is difficult to imagine that Mahler, in the first blush of his passion for Alma, would have composed a musical love letter of a melancholy nature. And even if he had sketched the movement before he met Alma, it seems inconceivable that he would have chosen music he intended to be somber to deliver, without the support of words, his declaration of love.
The idea that Mahler's concept of the Adagietto would have translated into much faster tempos for his own performances is not just theory. In his personal score of the Fifth Symphony, most likely the one he used in 1904 for the work's premiere, a timing of seven and a half minutes is given for the Adagietto. (Performances today may run twice as long.) The timing was apparently written by the conductor Bruno Walter, who attended the premiere; whether it stemmed from Mahler's performance that evening or from one of Walter's own subsequent performances, its appearance in this historic score is significant.
That timing closely matches Mahler's last performance of the Adagietto, in St. Petersburg in 1907. There, a player at the second desk of double basses wrote timings for several movements into his part. The Adagietto ran seven minutes.
A timing of nine minutes appears in a set of printer's proofs corrected by Mahler for the first edition of the score, though not necessarily in Mahler's hand. An identical timing was recorded at the last rehearsal for a concert given by Mahler in 1905 in Hamburg.
Mahler's timings are reinforced by recorded performances of his disciples. Mengelberg made the first recording of the Adagietto in 1926, running just over seven minutes. Like Walter, he had witnessed Mahler's own performances of the Fifth Symphony. Mahler once said of Mengelberg: "There's no one else I could entrust a work of mine to with entire confidence." Walter recorded the Adagietto in 1938, taking 7 minutes 58 seconds, and the full symphony in 1947, taking the Adagietto in 7 minutes 37 seconds.
What all this evidence reveals is that performances of the Adagietto by the composer and his closest associates averaged about eight minutes. On recordings, Bernstein took some 11 minutes, and noted Mahler conductors today range upward to about 14 minutes (Bernard Haitink). In concert, Bernstein and Hermann Scherchen could take more than a quarter of an hour.
Mahler often complained that conductors tended to "exaggerate and distort" his indications -- "the largo too slow, the presto too fast." But in the case of the Adagietto, he left room for some confusion. The term "adagietto," rarely used by composers, has left most conductors puzzled. And though the preferred definition in musical dictionaries is "slightly faster than adagio," Mahler complicated matters further by adding "sehr langsam" ("very slow").
Yet he could not have anticipated the distortions to which his Adagietto would be subjected over the decades. As the noted Mahler biographer Henry-Louis de la Grange puts it: "Clearly, Mahler had not foreseen or feared the excessive slowness to which certain conductors are addicted today in this short composition, which in their hands loses its tender and meditative character to become a saccharine elegy."
Some will undoubtedly argue that Mahler did not expect other performers to follow his interpretations. After all, he himself said, "Tradition is slovenliness." As a conductor, he was often accused of taking liberties with other composers' music. So, the usual argument goes, Mahler would surely have approved of -- or at least understood -- the treatment of his own music in the same manner by other conductors.
This is one of the many Mahler myths. In fact, he was adamant that conductors should not freely interpret his music, an attitude entirely consistent with his own behavior. He was indeed a great interpreter, but he believed he was fulfilling the composers' wishes. When his performances of others' works were criticized for failing to follow "tradition," he argued that his fellow conductors had relied too long on a false tradition that had no relation to how composers might have conducted their own works or wished them to be performed. "Then," he complained, "if someone comes along and fans the nearly extinguished spark in the work to a living flame again, he is shouted down as a heretic and an innovator."
Mahler did approve of certain adjustments to his orchestration to "suit the acoustics of the hall," but when it came to interpretation and especially to tempos, his view was different. According to Alma, "It was Mahler's wish to hand down his own interpretations as a tradition." His "slovenliness" comment notwithstanding, Mahler believed in tradition, but only when it emanated from a composer.
After the poor reception of his Fifth Symphony in Berlin and Prague in 1905, Mahler said to a friend: "So I thought to myself: Is it the fault of the symphony or the conductor? . . . We musicians are worse off than writers in that respect. Anyone can read a book, but a musical score is a book with seven seals. Even the conductors who can decipher it present it to the public soaked in their own interpretations. For that reason there must be a tradition, and no one can create it but I."
Still, Mahler would have been the last to argue that there was only one correct tempo for any of his works. His own performances always differed somewhat from one another. For Mahler, music was "something living and flowing that could never be the same even twice in succession." But that didn't mean he approved of any tempo. "Even if conductors follow my every indication," he said, "all is lost if they make a mistake in the first tempo." He thought that a tempo could be only "a degree" faster or slower, depending on the mood of the conductor, without harming his work.
So there seems little doubt that Mahler wanted conductors to follow his tempos, within reasonable limits. But for the Adagietto, all most conductors know is Mahler's opening tempo indication, "sehr langsam." Now, the information about Mahler's use of the movement as a love letter, buttressed by timings of his own performances and other compelling evidence, makes clear that playing this music excessively slowly can no longer be justified as interpretive license. It is simply wrong. AND NOW, THE FIFTH
Wait. It was Mahler's Second Symphony that Gilbert Kaplan pursued for so long, not the Fifth, right? Well, yes, and he's still at it, having conducted the Second Symphony in Red Rocks, Colo., just last weekend.
Mr. Kaplan (in photograph), who is the chairman of the magazine Institutional Investor, which he founded in 1967, traces his obsession with Mahler and the Second Symphony back to 1965, when, as an economist working on Wall Street, he heard Leopold Stokowski rehearse and perform the work with the American Symphony Orchestra.
Mr. Kaplan started chasing down every performance and recording of the work he could. In 1981, after turning 40, he began to study the score intensively. And improbably, in September 1982, this publisher with no formal musical training beyond childhood piano lessons led the American Symphony in Mahler's Second.
Since then, he has conducted the work at the invitation of more than 15 orchestras around the world and he recorded it with the London Symphony in 1988 for MCA Classics. He bought the composer's manuscript in 1984, and had it published in a limited-edition facsimile.
But lately Mr. Kaplan has also set his sights on the Adagietto of Mahler's Fifth Symphony. This fascination began after Leonard Bernstein's death in 1990, when he began to fear that the many dirgelike performances given in Bernstein's honor would congeal into a false tradition. To pin down Mahler's own concept of the movement as an expression of romantic love, he examined every document he could find relating to its history and performance.
He has just published a facsimile edition (Faber Music, $125), including Mahler's 17-page manuscript and a copy made by the composer's wife, Alma. The edition also includes a CD of the Adagietto, performed by Mr. Kaplan and the London Symphony. The recording, which illustrates a tempo close to Mahler's own, will be released more widely in August by Pickwick. -- James R. Oestreich
Continue reading the main story